Food allergens affect approximately 2-10% of the population, with higher incidences among children. Self-reports of having a food allergen are higher than the occurrence of having a true allergy. Self-diagnosing a food allergy may lead to unnecessary food avoidance causing nutritional deficiencies.1 If you are concerned that you have a food allergen, work with your physician and/or allergen specialist to affirm the diagnosis. I hope this article is beneficial for those dealing with a food allergy or intolerance and know the following steps to take to find relief with appropriate care and treatment.
What is a food allergy or food intolerance?
Food allergens result in adverse health reactions due to an immune response from exposure to a given food. The most common allergic response is an IgE-mediated food reaction. Nonimmune adverse health reactions in response to food exposure include food intolerances, referred to as food sensitivity, or illness from contaminated food sources.1 Most non-IgE reactions affect the digestive system. In contrast, immune IgE (allergens) affects many organ systems, including skin, respiratory, digestive tract, cardiovascular, and the central nervous system.1,2 Environmental factors that are thought to contribute to the development of food allergies. These factors include changes in your microbiome immune response, vitamin D deficiencies, and delaying ingestion of potential allergens in infants.1
An allergic response varies depending on the individual and ranges from mild cutaneous reaction to severe reactions such as anaphylaxis. Below are common food allergens and symptoms that may occur if exposed to a food allergen or intolerance:1,2,3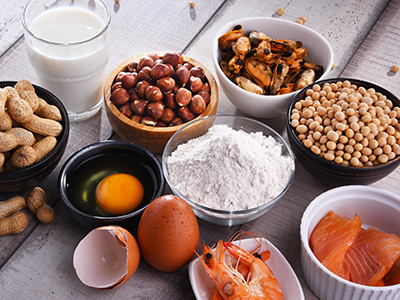 COMMON FOOD ALLERGENS & REACTIONS
Respiratory –
allergic rhinitis (stuffy nose, hay fever)
rhinorrhea (runny nose)
asthma, bronchospasm
laryngeal edema (throat tightening)
Skin & Mucous Membranes –
eczema, hives
swelling of deeper tissues
Itching of skin, eyes, ears, mouth
Oral allergy syndrome (OAS)
Digestive Tract –
diarrhea
constipation
abdominal bloating, distention, pain
Indigestion
belching
Nervous System –
migraine, headaches
lack of concentration
irritability
chilliness
dizziness
Other –
frequent urination
excessive sweating
pallor
hoarseness
muscle aches
NUTS & LEGUMES
pecan
pistachio
cashew
brazil
peanut
SEEDS
millet
sunflower
sesame
flax
psyllium
POULTRY
chicken
egg

SHELLFISH
crab
shrimp
lobster
limpet
FISH
cod
halibut
fish gelatin
seal meat
whale meat
DAIRY
cow's milk
cheese
ice cream
GRAINS
wheat
rice
quinoa
FRUIT
orange
tangerine
mango
banana
kiwi
VEGETABLES
potato
celery
pea
pinto bean
soy
chickpea
corn
How is a food allergy diagnosed?
If you may be suspicious, you have a food allergen; consult with your physician before making any changes to your nutrition to avoid potential nutrition deficiencies. I recommend you journal your food intake for at least 3 to 7 days with notes on foods that are causing discomfort and other adverse health reactions (as stated above). Bring the food journal with you to your primary physician to coordinate your medical history and physical examination. Your physician will most likely obtain blood to test your IgE serum levels to determine if your body's immune system reacts to certain foods. You may be referred to an allergen specialist for further testing to confirm a true food allergy, such as the skin prick test or an intradermal test.1,2,4 The gold standard for diagnosing a true food allergy is to work with a registered dietitian specializing in allergens or a healthcare provider that can perform an oral food challenge (OFC); some may refer to this as an elimination diet.2 The OFC method requires consuming the potential food allergen over a fixed time interval, slowly increasing the dose until an allergic reaction occurs or the maximum dosage is reached. Medical supervision is advised due to the high risk of inducing a severe anaphylactic response.2
Growing in popularity are at-home food sensitivity tests that measure IgG antibodies promoting to diagnose food sensitives. Except, the production of IgG antibodies in response to foods is a normal immune occurrence. The development of IgG antibodies is associated with the development of food tolerance.5 The IgG testing is being marketed as an intolerance or sensitivity test when it measures the opposite effect. Further, the use of IgG antibody tests to diagnose food allergens or intolerances has not been validated nor supported by scientific research. The inappropriate use and interpretation of the IgG antibody test increase the chances of false diagnoses and unnecessary dietary restrictions leading to nutrient deficiencies and a decreased quality of life.5
ACTION STEPS:
Track your food intake for 3 to 7 days monitoring your mood, energy, and any adverse food reactions (bloating, gas, discomfort, headache, nausea, allergic reactions, etc). DOWNLOAD FREE MEAL PLANNER & FOOD JOURNAL TEMPLATES.
If needed, request IgE Serum, skin prick test, and/or intradermal test. LE-Nutrition has access to a wide range of lab tests, CONTACT Lauren for more information.
Schedule a FREE Discovery Call with Lauren OR find a food allergy and intolerance specialist (registered dietitian or immunologist), some may require a referral from your primary care physician.
Complete an Oral Food Challenge conducted with a registered dietitian or allergen specialist that is qualified to perform this diagnostic method.
Make changes to your lifestyle and nutrition habits based on test results and recommendations from your healthcare provider.
Always consult with your physician to prior to beginning a new wellness regimen.
References
Abrams EM, Sicherer SH. Diagnosis and management of food allergy. CMAJ. 2016;188(15):1087-1093. doi:10.1503/cmaj.160124
Yu W, Freeland DMH, Nadeau KC. Food allergy: immune mechanisms, diagnosis and immunotherapy. Nat Rev Immunol. 2016;16(12):751-765. doi:10.1038/nri.2016.111
Joneja JV. In: The Health Professional's Guide to Food Allergies and Intolerances. Chicago, IL: Academy of Nutrition and Dietetics; 2013:43-55.
Birch K, Pearson-Shaver AL. Allergy Testing. In: StatPearls. Treasure Island (FL): StatPearls Publishing; October 15, 2020.
Kelso JM. Unproven Diagnostic Tests for Adverse Reactions to Foods. J Allergy Clin Immunol Pract. 2018;6(2):362-365. doi:10.1016/j.jaip.2017.08.021