I am so inspired by these Rainbow Bowls created by ChoosingChia! I think we get so caught up in counting calories or macros that we forget to be creative and eat the same bland food over and over again. After competing in bikini division of bodybuilding, looking at food made me nauseous. Coaching my clients on hitting certain macros was exhausting and time consuming. I began to change my nutrition philosophy and teaching myself more about nutrition! This lead me on the path that I am on today…working towards my Master's in Dietetics to help impact others and educate clients on the importance of nutrition and our quality of life! Food is meant to be a time to bring others together, to nourish our bodies (even heal!), and enjoy! I have pushed aside "fad diets" and learned to eat whole foods with lots of color, I don't count or measure….I mean doesn't looking at this make your mouth water?!
Try out this recipe by ChoosingChia and begin trying new things!!!
Rainbow Bowls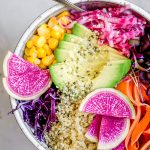 Print This
Ingredients
SALAD DRESSING 1/4 cup tahini 3 tbsp lemon juice 1 tbsp olive oil 1 tbsp maple syrup 2 tsp tamari 3 tbsp water salt & pepper to taste BOWLS 3 cups spinach or lettuce 1 cup quinoa, cooked 1/2 cup cabbage, shredded 2 large carrots, peeled or grated 1 cup yellow corn (from a can or fresh) 1 beet, grated (I used pink beet) 1/2 cup sprouts (I used radish sprouts) 3 watermelon radishes (or regular radishes) 1 avocado, sliced 3 tbsp hemp seeds
Instructions
To make the dressing, add the tahini, lemon juice, olive oil, maple syrup, tamari, water,  salt and pepper to a mason jar. Cover tightly with the lid and shake until well combined. Taste and adjust seasoning as needed.
To assemble the bowls, layer spinach or lettuce on the bottom. The rest of the ingredients will go on top.
Layer the quinoa, cabbage, carrots, corn, beets, sprouts, radishes, and avocado in small sections on top of the bowl.
Sprinkle with hemp seeds.
Serve right away with the maple tahini dressing.
Notes
Learn more about this inspirational bowl by visiting the author at bit.ly/choosingchia Make a double batch of the dressing and store it in the fridge for the week to top salads and bowls Add any veggies you like to this bowl Add any Protein you like to this bowl to make it a more filling meal