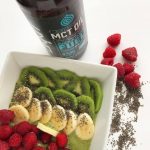 Print This
Ingredients
1 cup coconut milk 1 cup kale 1/3 avocado 1 banana, sliced 1 kiwi, sliced 1/2 cup raspberries 1 Tbsp honey .5-1 Tbsp ONNIT MCT Oil 1 tsp chia seeds 1 cup ice
Instructions
Blend coconut milk, kale, 1/2 banana, 1/2 kiwi, avocado, honey, ONNIT MCT oil, and ice until SMOOTH! OPTIONAL: 1 scoop of ONNIT Grass-fed Whey Protein OR ONNIT Powerfood Vitality in VanillAcai
Transfer to bowl or cup (your choice) and top with raspberries, chia seeds and remaining kiwi and banana.
Dig in and ENJOY!!!

Notes
For extra protein, add a scoop of plant-based (Powerfood) or grass-fed whey protein. **IF USING POWERFOOD VITALITY, remove ingredient 1 tsp chia seed! To limit sugar intake, reduce amount of honey used.