Maintaining optimal water and electrolyte balance promotes long duration performance. Especially with Spring and summer around the corner, up your nutrition and stay hydrated with this Mineral Electrolyte drink recipe. I struggle with an electrolyte imbalance and I am excited about ONNIT's new line of sports performance supplements. Their supplements are backed by science and research and now have even partnered with EXOS Performance to bring us the highest quality of supplements. I have been using ONNIT for years and love everything they have to offer….including their academy where I was certified. They truly believe in movement and nutrition to fully optimize our bodies.
Here is a brief summary of their new sports performance line along with my favorite add-in:
MINERAL ELECTROLYTE

Replenishing ingredients include:
SODIUM BICARBONATE – delays fatigue by boosting the cells' acid-buffering capacity
POTASSIUM – essential mineral for both nervous and muscle system function
CALCIUM – necessary for strong muscle contractions
MAGNESIUM – necessary to absorb calcium and a mineral most people are deficient in
PALATINOSE – non-GMO, low glycemic sweetener derived from beets
GLUTAMINE

L-Glutamine is an amino acid that has been shown in research to boost aerobic performance, minimize muscle breakdown, support gut health, and enhance nutrient absorption. One of the most abundant amino acids and depletes rapidly in active individuals.
CREATINE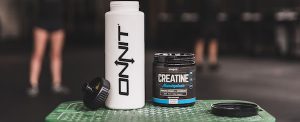 Before research was done on creatine, it was probably one of the most controversial supplements. Now, one of the most popular for its performance benefits including support of muscle gain, strenght, endurance, and anaerobic performance. Creatine works by adding a regeneration source of ATP, the fuel source of cells, to prolong exercise and work output for longer durations of time.
With any change in nutrition or supplement regimen be sure to consult with your health care provider and do your own research on the quality of  ingredients. There are so many brands out on the market and ONNIT is truly one I trust!!! The purpose of sport nutrition is to optimize your body for performance without compromising the quality of nutrition provided. On that note, here is my FAVORITE go-to supplement when training….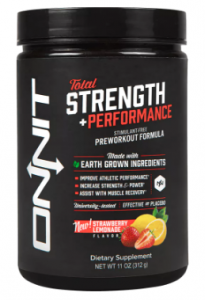 TOTAL STRENGTH + PERFORMANCE
A stimulant FREE pre-workout formula designed to optimize/support hormone balance, improve athletic performance, increase strength + power, and assist with muscle recovery. TO view the clinical trial study click here.
IF INTERESTED in trying out ONNIT…SHOP HERE and use code GETONNIT at checkout to save 10%.
RECIPE BELOW FOR REHYDRATION ELECTROLYTE DRINK!!!
Rehydration Mineral Electrolyte Drink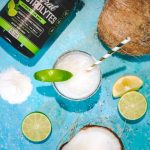 Print This
Instructions
Add all ingredients to a blender. Pulse until a slushy consistency is formed. Enjoy as a pre-, intra-, or post-workout refresher.
Recipe by ONNIT
**This post contains affiliate links and I will be compensated if you make a purchase after clicking on my links.