When visiting ONNIT headquarters in Austin for the Foundations certification, they spoiled us with their health food bar!!! I think I had a TROPIC THUNDER or MOCHA FRAPP everyday I was there! So delicious and packed with nutrients.  I absolutely love their brand and products! Striving to be better and help impact others to reach full optimization with natural sources of food + supplements along with kickass training!!! If you want to learn more about ONNIT, please reach out to me….they are making big strides in the health and sport industry to help us perform at our BEST!!!!  With that being said, here is the recipe for my favorite TROPICAL THUNDER PROTEIN shake and follow the link to view 7 others (mocha frapp included).
TROPICAL THUNDER PROTEIN SHAKE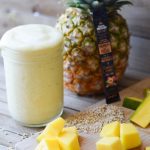 Print This
Instructions
Add all ingredients to a blender. Pulse until smooth. Let your mind and taste buds escape to a beach somewhere.